Autocross?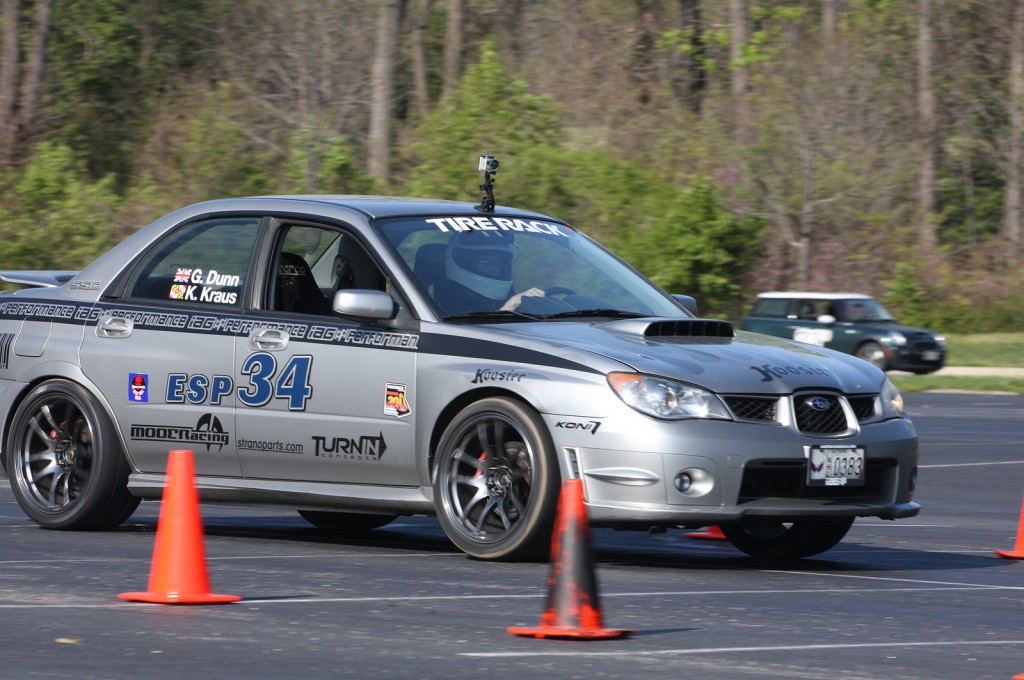 What is autocross?
Autocross is a precision driving event which involves navigating through a fix at lwo to medium speed. You race against the clock, competing against other people for the fastest time in your class.
A member of the San Diego SCCA region put together an excellent video that introduces the sport very well
A video is worth a thousand words – check it out!
What kind of car do I need?
Pretty much any normal car will do! You need to pass a basic safety inspection (making sure lug nuts and battery are tight, throttle cable doesn't stick, etc) but that is about it.
How much does it cost?
Autocrossers Inc events are $45 for SCCA members and $55 for non-members.
What should I bring?
Your drivers license is necessary for check-in. Beyond that, it will depend on the
day. Sunscreen is always a good thing to pack, as is an umbrella. Fluids,
especially water, are good to bring as well, though there are several convenience
stores within a 5-10 minute drive of the event site. A tire pressure gauge is often
useful, as well as a folding chair.
When do I need to be there?
You should arrive by 8:30. Registration usually closes at 9:00 and tech usually closes at 9:15. This allows plenty of time for coursewalking before the driver's meeting.
Are passengers allowed?
Yes, as long as they have signed the event waiver and are wearing a helmet.

Do you have loaner helmets?
Yes, there are a limited number of loaner helmets.
Is my motorcycle/karting/roadracing helmet okay to use?
The official helmet rules are covered in section 4.3.1 of the rulebook scca.com.
The short version is: for 2016, the helmet is legal as long as it meets 2000 certification (M2000 SA2000 or K2000) or newer, and the
Snell rating sticker is present. Normally, the rule is "the current standard plus the previous two", but the 2000 helmets were extended into 2016.
For 2017, the helmet will be legal as long as it meets 2005 certification (M2005 SA2005 or K2005) or newer, and the
Snell rating sticker is present.
If you have any doubts, no worries – just get a loaner helmet! It's free and it'll definitely be legal.
Will my car break if I autocross it?
Hopefully not, if it's okay to drive on the street! As long as your car is in relatively
good mechanical condition, it should be okay to drive. It must pass a routine technical inspection before it is allowed on course, and if the car fails tech, you
will have your entry refunded. Before you come to the event, make sure all
crucial fluids are at operating levels (engine oil, brake fluid, power steering fluid,
etc.). Make sure your tires are properly inflated.
What do I have to do to get through the technical inspection?
First, make sure you've checked in at registration and received your work
assignment. Then, make sure all loose items are out of the car (including floor
mats) and the trunk. Your car should not be leaking any fluids, and all wheels
should be tightened with a torque wrench to the proper specifications (usually
between 85 and 100lb/ft). The battery needs to be securely held in place, and the
throttle return needs to be positive. The brake pedal should be firm. When you
pull up to in the tech line, pop your hood and your trunk and wait for the tech
inspectors to tell you what to do next.
I've never done this before. Will someone be able to help me?
There are always AI members available to ride along, or to give you a ride if you
are nervous, having trouble finding the course, or just want to see what a toplevel National autocrosser driver does that's different from what you do. All you
have to do is ask.
I've done this before, but I want to get faster. Can I still have an
instructor?
Instructors are always available, for anyone who wants one.
What class is my car in?
The SCCA classification system is used. If you need
help with classifying your car, email the registrar, including a list of all
modifications done, no matter how minor.
How can I become a member of Autocrossers, Inc.?
If you are interested in being a member, let one of the current members know
your interest.